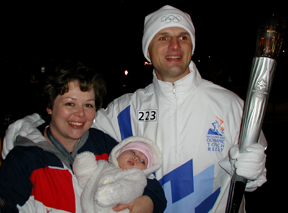 Lavyn our daughter (3 months old), Matt and Kim at the Olympic Torch relay, January 02.
Other column entries:
September 1, 2004
June 14, 2000
August 19, 2000
September 2, 2000
October 8, 2000
October 14, 2000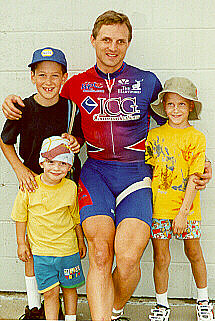 Matt with some very special friends..(from left to right, Ben, Ryan, Matt and Garrett) Garrett, who is blind and is fighting cancer, motivates Matt to keep going!
September 25, 2004
Well, its 3:00 am in Colorado and I am waiting for the men's tandem road race results to be posted on the www.athens2004.com website. I am so thankful for the website coverage. It hasn't been easy staying home when all the excitement of a Paralympic Games is going on and you aren't there to see it live.
Its also been fun to go and check-out Matt and Eric's teammates websites; read their journal entries, and visit their photo galleries. Reading their journals and seeing all the photos makes me feel a little closer to the action. Check out Jason Bryn's site at www.jasonbryn.com or Ron Williams site at www.ronswilliams.com. On Ron's site, I was so happy to see a photo of Matt and Eric wearing their Team USA cycling competition skin-suits and see the crowd of people in the background as they competed at the velodrome. After all these months of seeing them train, it was nice to see them looking tough in their Athens gear and to also see they had quite the audience. Thank you Brooke and Ron Williams, Jason and Glenn for sharing your photos and for taking the time to enter journal entries.
We decided to give Matt a call and see how he was feeling after the road race. The road race was brutal, strong winds, equipment issues, and he was very tired and sore from the miles. But, they are still having a good time! I was so bummed when I read about Jason and Glenn's race. Click here to read a more descriptive version of today's road race from Jason.
After their race, they were able to go to the ocean. That was something Matt has been talking about since he knew he was going to Athens. And, especially after they decided they were going to compete in the road race and would be so close to the water. Sounds like that has definitely been one of the highlights of his trip! They were then going to go out and eat dinner. He was very excited to get away from the village and try some Greek foods. They are getting a bit tired of the village and the cafeteria food. Nice they can get away.
Life has been good here, busy, but good. I will be so happy when Matt comes home.
Hearty - Guide Dog puppy
Hearty (photo below): Hearty, the guide dog puppy that we volunteered to raise, unfortunately, was dropped from the Guide Dog program because of allergies. Hearty made it to level 8 which means she only had one more level to graduate and would have then went on to "class" - which means she would have been matched with a blind person. Matt and I adopted Hearty and now she is a permanent resident at the King household...So sad, but we are proud of her and her success at school. Unfortunately, on Mother's Day - May 2001, we were forced to find Hearty a new home because Kim had a terrible allergic reaction to the grasses Hearty was bringing into our home. We found her a loving home four blocks from us and she seems to be doing great. We miss her terribly and giving her to a new family was one of the hardest times of our life, but we know she is safe and happy.
Hearty went to Guide Dogs for the Blind, Inc.'s school in Boring, Oregon, on May 20. (If you are interested, please read more about how to become a volunteer guide dog puppy raiser). Volunteering to raise Hearty was one of the most challenging and rewarding experiences of our lives. (You can see a photo of Hearty below). If you are interested in becoming a puppy raiser and live in Colorado Springs, Colorado, please contact Guide Dogs for the Blind - Leading with Love Puppy raising group. If you live in the eastern United States you can also raise a guide dog puppy through Guiding Eyes for the Blind, for more information contact Guiding Eyes for the Blind at www.guiding-eyes.org