Other column entries: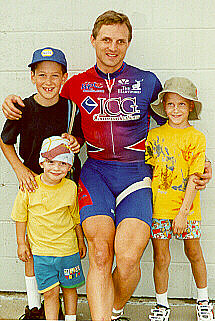 Matt with some very special friends..(from left to right, Ben, Ryan, Matt and Garrett) Garrett, who is blind and is fighting cancer, motivates Matt to keep going!
October 14, 2000
Thought I would take a few minutes to sit down and write. Its been a busy week...now it was my turn to pack and get the household back in order. Wow! Its almost easier packing bikes and Matt's things. Please don't tell him I told you that.
Much planning goes into a trip like this...but I am packed and ready to go on a three week adventure. Its going to be one of the most exciting and memorable times of our lives. I am so proud of Kirk, Mark and Matt ...they have been working extremely hard. I am positive that we are going to see some awesome results. Like the old saying goes - "hard work always pays off in the end".
My parents will be here from Kansas shortly, and we will meet Matt's parents in California airport tomorrow. So, traveling on the trip will be Matt's parents, my parents, Debbie, one of my friends, and Peggy, Randy Hampton's wife (Randy is a cyclist competing, too). And we will meet Kathy Urschel's parents in California airport, too. So Fun! We will all travel together...Then on October 18 - Kirk's girlfriend Jenny will meet us in Australia. Team King has quite a cheering section. Should be a good time!
We will keep you posted on Team King results. Better go, its time to take Hearty to the puppy sitter. Thank you Jessica, Christina, Cady, and Holly for offering to puppy sit for us. Matt and I are very grateful!
Hearty (photo below): Hearty, the guide dog puppy that we volunteered to raise, unfortunately, was dropped from the Guide Dog program because of allergies. Hearty made it to level 8 which means she only had one more level to graduate and would have then went on to "class" - which means she would have been matched with a blind person. Matt and I adopted Hearty and now she is a permanent resident at the King household...So sad, but we are proud of her and her success at school. Unfortunately, on Mother's Day - May 2001, we were forced to find Hearty a new home because Kim had a terrible allergic reaction to the grasses Hearty was bringing into our home. We found her a loving home four blocks from us and she seems to be doing great. We miss her terribly and giving her to a new family was one of the hardest times of our life, but we know she is safe and happy.
Hearty went to Guide Dogs for the Blind, Inc.'s school in Boring, Oregon, on May 20. (If you are interested, please read more about how to become a volunteer guide dog puppy raiser). Volunteering to raise Hearty was one of the most challenging and rewarding experiences of our lives. (You can see a photo of Hearty below). If you are interested in becoming a puppy raiser and live in Colorado Springs, Colorado, please contact Guide Dogs for the Blind - Leading with Love Puppy raising group. If you live in the eastern United States you can also raise a guide dog puppy through Guiding Eyes for the Blind, for more information contact Guiding Eyes for the Blind at www.guiding-eyes.org