The evening also included a silent auction item featuring items that were donated to help reach our Athens fundraising goals. Thank you to all the donors who contributed items. Items included the following:
1. 1984 Olympic Torch
2. Erik Weihenmayer Book and DVD
3. Alison Dunlap – World Champion & Olympic Cyclist
(Signed Poster and Jersey)
4. U.S. Olympic Committee – Golf package
(Golf bag, USA Hat, and Windshirt)
5. 2004 Athens Olympic Games Bag and T-Shirt
6. 2004 Athens Olympic Games Bag and T-Shirt
7. U.S. Association of Blind Athletes T-Shirt, Shorts, and Polo
8. Athens 2004 T-Shirt and Hat
9. Athens 2004 Roots Jacket
10. 2004 Athens Adidas T-Shirt and USA Mug
11. 2004 Athens Adidas Pull-Over and Olympic Book
12. 2004 Athens Hooded Sweat Jacket
13. America the Beautiful Bronze Plaque
(donated by Zorbadillo's Restaurant)
14. Trek Bikes.com Bontrager Race Lite Wheel Set
15. Saris/Cycle-Ops Cycle-on Trunk Rack
16. YMCA 6 month Family Membership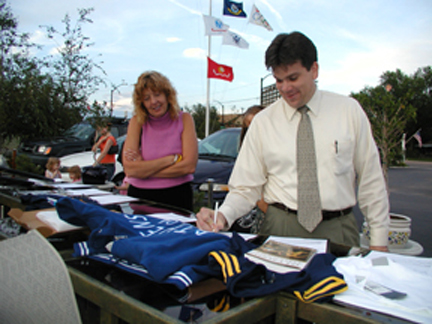 Above photo: Kathy Logue and John McAlpine, Team King fans, bid on some silent auction items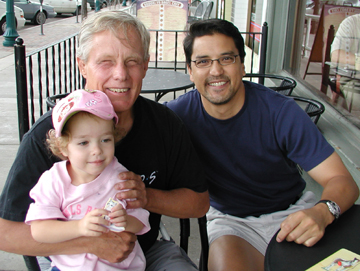 Bob Bradler and Lavyn King (left) and Kevin Kaneshiro
of Portland , OR. Bob and Kevin are tandem cyclists from the 1992 Barcelona Paralympic Games. Kevin was the captain and the
eyes for Bob. Bob was the stoker on the back of the bike.
They are still great teammates and the best Team King supporters!