Journal
[ Home ] [ Up ] [ Kilometer Result ] [ Day before the Kilometer ] [ Men's Tandem Sprint Qualifying ] [ Matt & Eric Tandem Sprints from Kim ] [ Opening Ceremonies ] [ US Paralympic Cyclists ] [ We Are in Athens ] [ Dulles from Eric ] [ Roadies on the Track ] [ Cycling Feature - Olympian Magazine ] [ Spreading the Word ] [ Send off Celebration ] [ May 30 Camp - Eric ] [ Back in Wisconsin ] [ Blaine MN - August 5 ] [ Another day in life ] [ Mid-July in Wisconsin ] [ San Diego - July 6 ]
Another day in the life from Eric
Friday, July 30
Been in Minnesota for about a week now. I am exhausted. Triple workouts 2 days a week, double workouts most of the other days.
Today started at 6 A.M., like most days. After a quick breakfast we were out the door on our way to the gym. By 8:30 we were done in the gym and heading for the track. I am already soaked with sweat at this point. By 9:30 we have the bikes unpacked from the storage container where they live here and we're getting on the track. 6 standing start efforts that will last for 1 1/2 laps, or about 28 seconds. 10:00, we complete our warm-up and start to set up our bike for the efforts. It will take 2 hours to do the 6 efforts, mainly because we need full recovery between each one to make the workout as effective as possible. With nobody around to help we roll through the first 3 efforts by coming to the slowest speed we can manage and starting from there. After 3 efforts my dad and a bunch of his side of the family show up to watch us. He is in Minnesota competing in the U.S. Transplant Games. One of the few fringe benefits of having a kidney transplant. They help hold us and get some time splits for us. Time splits are the holy grail of track racing. You can break any timed event down into 1/2-laps and get a very good idea of how you're doing compared to what you'll most likely need to do if you want a gold medal hanging around your neck. So far we'd been training by ourselves at the track so we were happy to get some feedback about how things were going.
On our first try with timing we did an OK opening lap, maybe a 1/2 second slower than we'd like to do in Athens. At the 1 1/2 lap mark we were another 0.5 seconds slower, meaning we'd be losing more than a second per lap from what our expected pace should be in. Not good for a 65 second event. 1 second could easily drop us 4-6 places in the standings. But we had lost traction in the first corner and spun the tire, then coming out of turn 4 Matt's toe strap got caught up in the timing chain and sliced in half, giving the bike a good jerk. Surely we'd get it better on the next one.
Try two went quite a bit more smoothly. Nice start, good form through the first set of corners, good leg speed down the back straight, a decently smooth sit, and I kept the bike pretty close to the measurement line through the rest of the corners. We were surprised to hear we were down .6 at the half, but happy that we'd pulled back to even after a lap and slightly ahead at 1 1/2. Still on pace to lose 0.6 seconds a lap but with aero equipment and fresh legs our speed should bump up a little closer to our target.
Try three we really nailed from a technical standpoint. I came off the bike expecting to hear some pretty fast times. Nope. Down 0.9 at the half, 0.2 at a lap, but just 0.1 off our second ride between 1 and 1 1/2 laps.
I think our declining start times were a pretty clear indicator there wasn't much gas left in the tank after 3 hard days of training this week. Our start is normally pretty decent, and with fresh legs we'll get that first lap under 20.5, which is pretty world class for a tandem. I'm cautiously optimistic that we're hitting a good cruising speed (our third split time). We'll need to pull another 0.6-0.8 seconds off of our lap times once we're at speed if we want to win. Maybe 0.2 of that comes from aero equipment that we'll race with, another 0.2 from having fresh legs on race day. We'll need to figure out how to get the rest of that time off in the next 6 weeks.
---
Last day on the track until Tuesday - Saturday, July 31
Today we crammed through our workout and rushed down to the St. Paul Fairgrounds to watch my dad race in the criterium. We were pretty late getting there. In fact, we were just in time to see him finish his final lap and put his hand in the air. His race was mixed with another, younger age group and, unfortunately, he'd lost track of who was in his race and who wasn't and one guy had slipped past him in the final laps so he ended up with silver. He was adding that to his gold medal in the kilometer time trial (unlike our kilo, this one was on the road) from earlier in the day. The Transplant Games is an Olympic style event with multiple sports and opening and closing ceremonies. I joked with him that with a gold and a silver he wasn't leaving me with much room for improvement when my turn comes.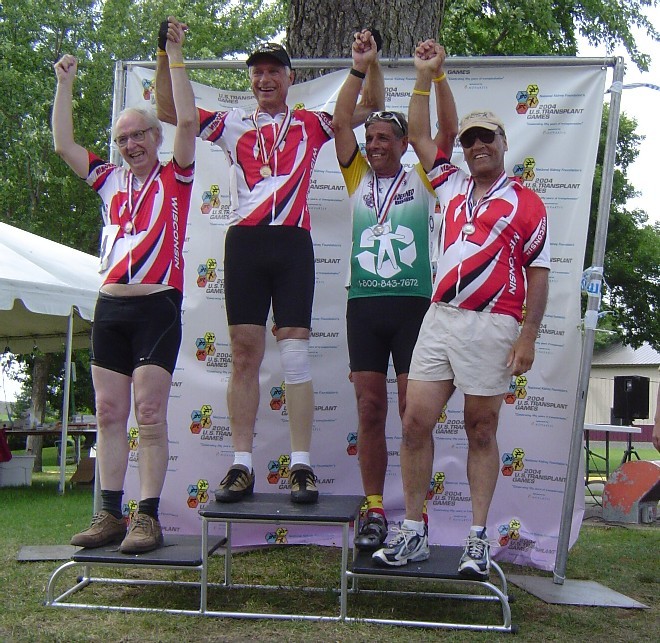 Note those sweet UW jerseys. It's a good thing the UW Cycling Club started selling them to the public. Get yours at a Budget Bicycle Center near you!
For the first time since we got here we actually ate dinner before 9:00! I've even had enough time to write all this stuff.
Tomorrow I'm hoping to meet a friend of mine who lives up here and unwind in one of my favorite ways. Go-kart racing. All the speed, all the bumping and contact, none of the effort, none of the splinters or road rash if you crash.
---
Odds & Ends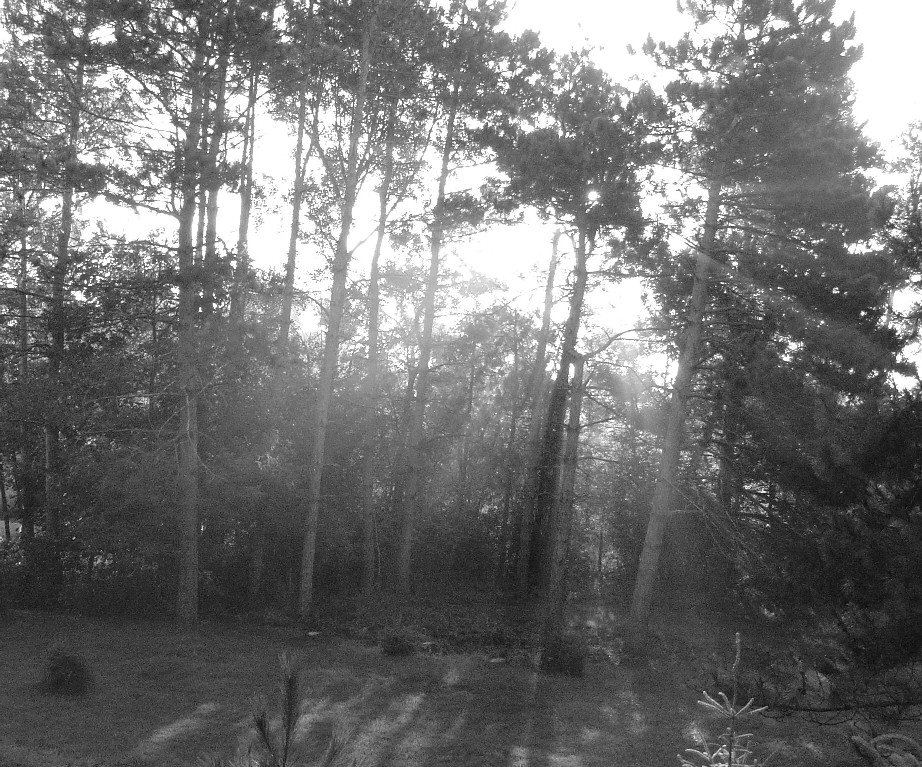 My new backyard in the morning light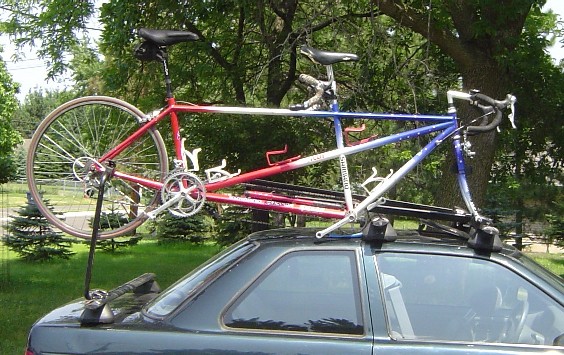 How to carry a tandem on a two-door sedan. Do not try this at home.