Journal
[ Home ] [ Up ] [ Kilometer Result ] [ Day before the Kilometer ] [ Men's Tandem Sprint Qualifying ] [ Matt & Eric Tandem Sprints from Kim ] [ Opening Ceremonies ] [ US Paralympic Cyclists ] [ We Are in Athens ] [ Dulles from Eric ] [ Roadies on the Track ] [ Cycling Feature - Olympian Magazine ] [ Spreading the Word ] [ Send off Celebration ] [ May 30 Camp - Eric ] [ Back in Wisconsin ] [ Blaine MN - August 5 ] [ Another day in life ] [ Mid-July in Wisconsin ] [ San Diego - July 6 ]

Dulles International Airport from Eric

September 10, 2004

We made it through processing last night. Reunited with a lot of the people Iíve met over the last half year, got more clothes than Iíve ever owned at one time in my life, and passed out red, white, and blue gummie bears.

Our camouflage shirts have been a hit. Glenn was asked by a lady in the airport what sport he was in. He said he as a shooter and pointed to Al, who was standing next to him, and introduced him as his loader. She bought it hook, line, and sinker. He left to do something else and when he came back 15 minutes later the lady was still telling Al about her brother who shoots. Matt has changed sports and is now part of the Paralympic fishing team. He uses his cane to catch the fish.

Please click on the following photos to receive a full size image.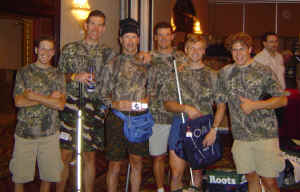 From left to right; Al, Jason, Glen, Brad, Matt, yours truly.
Matt (above) showing his true, 70ís self. Doesnít he look like Greg Lemond from back in the day?

Allison (on the right) sporting camo with that hot Paralympic tie waistband


Glen in line to check out with all his new, non-camouflage clothes.