I want to help Team King by donating via check
Here is how to make a tax deductible contribution to Matt's Athlete Development Account (ADA) at the United States Association of Blind Athletes (USABA) via check. Once monies are deposited into Matt's ADA account, he may submit qualified travel and equipment receipts to USABA for reimbursement.
Step 1 - Please make your check payable to the U.S. Association of Blind Athletes (USABA) and write Matt King ADA in the memo of the check (an example of how to write your check is below). Steps 2 - 4 follow check example.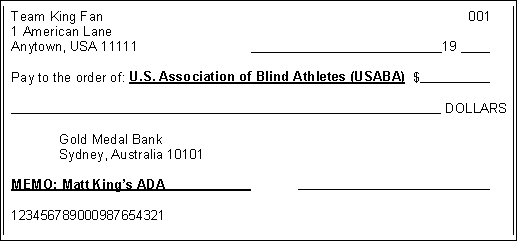 Step 2 - Please complete the form below so that Team King and USABA can acknowledge your support.
Step 3 - Please print this page to include with your check.
Step 4 - Please send to: Matt King, 619 North Hancock, Colorado Springs, CO 80903.
If you have questions, please contact Team King at kim@thekinglink.com or 719.527.6793.